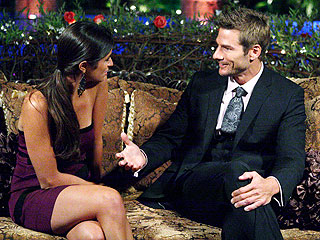 Jackie Gordon, left, and Brad Womack
Hey, everybody!
So this particular blog is going to be a little bit different. In my past blogs, I've described the individual women, the dates, etc. This time I'd like to try to describe the very intense emotions I was feeling in Costa Rica.
I had hit what felt was like an insurmountable wall and needed the women so badly during the entire week. I was physically and emotionally exhausted, and I don't know if the exhaustion was as apparent in the episode as it felt. I don't know why it hit me like it did. Maybe it was that Costa Rica was almost the halfway point of our journey (which was a reminder of how many more difficult decisions were going to have to be made). Maybe I realized that, at this point, no matter who I said goodbye to, she was going to be a very big loss for me. I've said it a million times – this group of women is extraordinary, and it was a heartbreaking realization to know that all but one would be leaving soon.
Yes, I know the ultimate goal is to meet just one woman that I could call my wife one day, but that didn't make it easier to say goodbye. I'm so thankful to the women for pulling me through such a tough week!
Let me make something clear ... in no way did my bad mood have anything to do with the beautiful country of Costa Rica! I've never seen a destination that has such beauty as well as a plethora of activities that one can do to enjoy the landscape. We were able to zipline through the treetops, rappel down numerous waterfalls, and explore a cave that is 40 million years old! For anyone that has an adventurous side, or even if you want to just relax on a beach, Costa Rica is the place to go!
All of the dates seemed to be filled with adrenaline, so there wasn't much time to have an intimate conversation with the women. Of course, once the evening part of the date arrived, that changed. I gained some ground with some of the women that I was hoping for. Unfortunately though, I lost some footing with some of the women that I was so confident I had a very strong connection with. It was a week full of clarity, so to speak. Maybe that's another reason I was so frustrated – I realized that emotions can develop, or fade away, very quickly during this journey. I like to be in control of my emotions but learned this week that maybe it's best to let my heart guide me.
Having to say goodbye to both Jackie and Alli was extremely difficult. I remember talking to Alli during dinner and knowing that I needed to let her go. It was similar to being punched in the stomach. I knew that I needed to say goodbye for various reasons but I simply didn't want her to have to leave.
Jackie was the exact same way. Here's a woman that has endless qualities that I would assume every man is looking for, but I didn't feel a strong enough connection with her. I remember hugging her before she got into the SUV and drove off, and not wanting to let go. Both women were very gracious in their exits, which was yet another sign of their maturity.
Thanks so much for watching everybody! Just wait until you see the beautiful island of Anguilla ... and watch as a love story unfolds before your eyes!
– Brad Womack
source