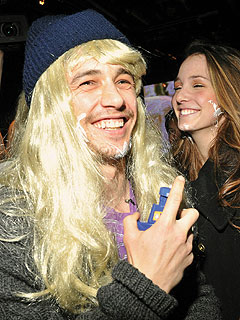 So what hasn't James Franco done lately?
He's attending Yale University, wrote a book, signed on to co-host the Oscars, starred in the critically acclaimed 127 Hours … and became a ditzy blonde.
Franco showed off the new look at the Sundance Film Festival, where he's promoting his documentary, Three's Company: The Drama, which examines the classic 1970's sitcom.
The actor, 32, channeled his inner-Suzanne Somers by donning a long blond wig and black beanie while hosting a "Reagle Beagle"-themed bash Friday night at Chefdance, presented by Sotheby's.
"He was singing into the mic at the deejay booth," says a party guest. 

The deejay blasted the old school Three's Company theme song throughout the evening. "James was having a great time."
Other celeb fans toasting alongside him: Andie MacDowell and Eliza Dushku and 
Rick Fox.
Franco capped off his big night arriving to TAO at The Samsung Galaxy Tab Lift just after 2 a.m. with a group of 20 including agent Kevin Huvane. Also there were actors Susan Sarandon (with small group but sans beau Jonathan Bricklin) and Hugh Dancy (with one guy friend, sans wife Claire Danes).