This is great news- so glad he has recovered!

Michael Douglas: "The tumor is gone."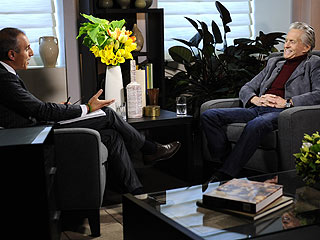 Michael Douglas has beaten his cancer.

"I feel good, relieved," Douglas tells Matt Lauer in an interview scheduled to air on the Today show Tuesday. "The tumor is gone. But, you know, I have to check out on a monthly basis now to maintain."

Nevertheless, he's optimistic that he's cancer-free after going through radiation and chemotherapy to treat a tumor on the base of his tongue.

"I think the odds are with the tumor gone," Douglas, 66, says, "and what I know about this particular type of cancer [is] that I've got it beat."

With the good news, Douglas says he'll continue to monitor his health and "take a couple of months of getting checked out. But it's been a wild six-month ride."

And as he recovers, the actor says his appetite is back and he's slowly gaining the weight he lost during his illness. "I lost about 32 lbs.," he says. "And I've put about 12 back. But, I mean, I got another 20, 25 to go."


After his cancer battle, Douglas, who took his children Carys and Dylan and wife Catherine Zeta-Jones on a trip to Walt Disney World in Florida over Thanksgiving, says he's come to value the love and support of his family and friends in an even more profound way.

"All of a sudden the affection from my family, from my friends, and from my fans hit me at a much deeper level than I would have ever imagined before," he tells Lauer. "And it gave me a really new appreciation of just how valuable, how precious good friends are and family."

"There's a much deeper feeling," he continues. "And I've talked to other cancer survivors about this, that – that happens, that you just really, really appreciate what's important in life."