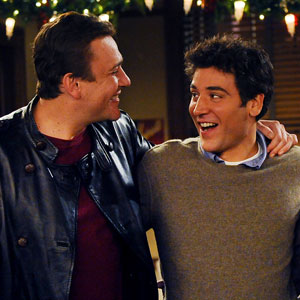 Ron P. Jaffe/FOX
How I Met Your Mother
's
Josh Radnor
is playing favorites!
You'd think he'd be rooting for Ted and the mysterious mother to finally get together, but guess what Josh told us exclusively about his character's future wife...
"To be honest, I don't care," he tell us. Now, before all you HIMYM fans start threatening to stab Josh with yellow umbrellas, please hear him out. "I don't say that dismissively. It's too long a title, but the proper title for the show should be: This is all the stuff that happened before I met your mother. And when you look back you'll realize everything had to happen so that everything else could happen. That's why it's one of the few multi-camera sitcoms that people pay attention to like it's Lost or something. They really look for clues and yellow umbrellas."
So who is his favorite twosome on
HIMYM
? The bromantic pairing of Ted and Marshall, of course! "
Jason
(
Segel
) and I love doing scenes together. And
Carter
(
Bays
) and
Craig
(
Thomas
) always come up to us afterward and they're like, 'man, we need more Ted and Marshall.' " Ask and you shall receive, right, Josh? "We have great stuff that happens in Minnesota," he reveals. "[Marshall] stays in Minnesota to help his mom and Lily (
Alyson Hannigan
) shows up and then I show up. We have a great scene."
Josh was part of a featured panel presented by the UCLA Theater, Film and Television (TFT) Master Class on Wednesday night, and he told the crowd of aspiring actors and writers that he loved not knowing what was coming up for Ted because he was able to just dive in to his character without thinking about the future. But he did know just enough about what's coming up for Ted to drop some hints on the rest of the season.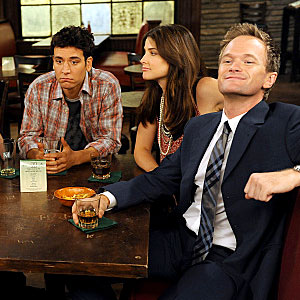 Eric McCandless/CBS
"Ted gets in a relationship. I'll just say that," he tells us. Josh also promises that the episodes coming up, while not as emotional heavy as the funeral episode, will still revolve around Marshall's loss. "It turns Marshall a little more reflective and [he wonders] what he's doing with his life and all that stuff."
Josh insists he's in the dark on the reveal of the mystery wedding he's attending and any more information on Barney's real dad. But that's probably because the powers-that-be over at HIMYM are very cautious of leaks. They were especially concerned about the fate of Marshall's dad getting out. "I guess there were some leaks last year about certain plot points, so at the table read and the network run through, we had an alternate ending. So, if the script got out, it wouldn't ruin that," Josh says. "It was Lily saying she was pregnant. So, it was a little trick to the mole."
Very sneaky, those HIMYM writers. Just going to have to wait and see how everything plays out. But Josh can promise the same-old HIMYM standard: focus on friendship. "I like [Ted] when he's a really good friend. I like him when he's a good friend to Marshall or Robin because I think there's something real about that. In some ways it's a great show about friendship. It feels real."
How I Met Your Mother
returns with a new episode Feb. 7, so feel free to take the time before then to guess who Ted starts a relationship with. Could it be Zoey (
Jennifer Morrison
)? Or someone we haven't met yet? The comment section is all yours, gang.