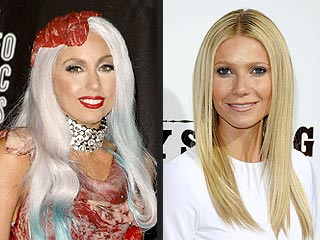 Andreas Branch/Sipa, AFF-USA
If it's not broken, don't fix it!

That may be the idea behind the decision to revisit two of Glee's most exciting episodes. The show's co-creator, Ryan Murphy, tellsEntertainment Weekly that Gwyneth Paltrow will reprise her role as Holly Holiday and that the music of Lady Gaga will once again be featured on the show.

"Gwyneth is coming back for two episodes. She's coming back
specifically to date [Matthew Morrison's character] Will," Murphy tells EW. "Those two have become really good friends in real life and had really good chemistry. She's coming back as a sex education teacher. Gwyneth and I are emailing, talking every week: What are we gonna sing? We're trying to do something fantastic. So she'll be [in episodes] 15 and 16. She comes back [to film] in January and she's with us for three and a half weeks I think."



Then, in March or April, Gaga's upcoming single, "Born This Way," which hasn't been released yet, will be featured in a new episode about McKinnley High's closeted gay bully, Dave Karofsky (played by Max Adler).

"I love that that song is anthem," says Murphy. "This show is by nature optimistic and I think a character like Karofsky could turn to booze or pills or alcohol and kill themselves or do something dark. But I also love Max and I love that character and I sorta want that character to have a happy ending. So I don't really know what that's going to be, but I do know we're going to do a whole episode that's about that song."

The magazine also reports that Kristin Chenoweth will return to play April Rhodes in multiple episodes and that rumors of a Justin Bieber episode arenot true.

"Those [tributes] are reserved for artists with big catalogs," Murphy explains. "Bieber comes up in episode 13 as a small plot point. Sam (played by Chord Overstreet) sings a JB song to win Quinn's (played by Dianna Aragon) approval."