Here's a rundown of epic fails and major kudos...
Critics Choice is one of the fun award shows to me- I attended a few years ago and had a blast. It wasn't stuffy and formal but there was definitely a glam factor. Here's how it all worked out:



Kevin Winter/Getty Images
Whether Mark Zuckerberg is ready or not, The Social Network has gone public.
The Story of Facebook was named Best Picture at the 16th Annual Critics Choice Movie Awards tonight, one of four honors for the unequivocal smash hit (seriously, who thought a thriller about a website was going to be amazing?), making for a very promising start to the viva glam red carpet portion of the 2010-11 awards season.
Last year, the Broadcast Film Critics Association was six for six in the film, directing and acting categories as far as eventual Oscar winners were concerned (minus having
Meryl Streep
tie with
Sandra Bullock
for Best Actress), so who else's stock just skyrocketed?
Numbers-wise, actually, Inception took home the biggest haul, but aside from being named Best Action Film, the rest of its six wins were all in technical categories. (It's still totally going to be up for Best Picture at the Oscars, though.)
Jeff Kravitz/FilmMagic
Natalie Portman
's descent into madness continued to be worth it, as she scored a Best Actress win to go along with the baby and fiancé she already snagged from starring in
Black Swan
.
"Thank you, Darren [Aronofsky]," Portman, clad in a bump-accommodating, one-shoulder gown, said in thanks. "I met you 10 years ago in a HoJo, you were classy then you're keeping it classy now. I keep telling [him], you made me very skinny, and now youre indirectly responsible for making me fat because you introduced me to my love, [Black Swan choreographer]Benjamin Millepied, and I am incredibly grateful for that most special of gifts."
And it's a good thing he managed to sneak in some speech coaching while actually making
The King's Speech
, because Best Actor
Colin Firth
will probably be making lots of trips onstage in the coming days.
"We people, well I, have a need for attention and approval which borders on the infantile, and we, if I may revert to the royal 'We,'" Firth charmingly rambled, "we need it from our audiences, obviously, our peers and—believe me—we need it from our critics. And you can tell by the way we deny it."
Why, again, do we let anyone other than Brits make acceptance speeches?
The Fighter
slugged out three major wins, including Best Acting Ensemble and Best Supporting Actor for
Christian Bale
, already the heavyweight to beat this awards season for playing
Mark Wahlberg
's drug-addled half-brother and trainer.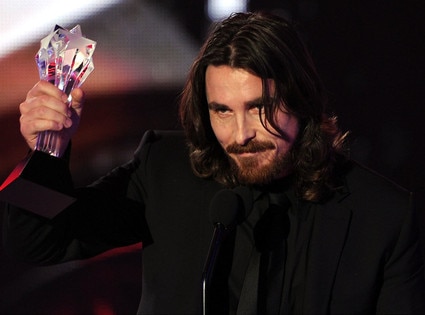 Kevin Winter/Getty Images
The newly hirsute actor proved as long-winded as a certain viral video may have led you to expect, but his acceptance speech, in which he thanked everyone involved with the movie, was all grace and gratefulness as he gave shout-outs to his wife and daughter, the real Dickie Eklund, and family matriarch Alice Ward, who was hospitalized this week in bad shape.
"She was declared dead earlier this week and then after 30 minutes came back around," Bale said. "That is one tough cookie...The doctors said it was like Lazarus."
Fittingly, Melissa Leo, who played the dominating Alice, was named Best Supporting Actress.
After fondly remembering making out with presenter
Josh Brolin
when they worked together some years ago, she said what an honor it was to play the role of Alice Ward.
"About 10 years ago, I turned 40 and my culture tells me it's kind of over then," Leo, radiantly pulling off the lady-tux look, said. "For the last 10 years my career has been blossoming and bubbling along, and I'm getting opportunities to work in films, like David O. Russel's brilliant film,The Fighter."
As was expected,
The Social Network
scribe
Aaron Sorkin
got the nod for Best Adapted Screenplay for giving the venerable Sorkin treatment to Ben Mezrich's book,
The Accidental Billionaires
.
David Fincher
was named Best Director and
Trent Reznor
(can't wait to see
him
at the Oscars) and
Atticus Ross
were honored for their rather perfect original score.
David Seidler, a onetime stutterer himself, got the win for Original Screenplay for penning The King's Speech.
Despite its 11 nominations, Hailee Steinfeld was the sole performer left standing among the True Grit cavalry, winning Best Young Actor/Actress for her role as a plucky teen raring to avenge her father's death who has the wherewithal to get Rooster Cogburn on the case.
Sleeper (and alleged sleeping around) hit Easy A upset the bromantic Get Him to the Greek and The Other Guys to win Best Comedy; Waiting for Superman took Best Documentary Feature (from presenters Kim and Khloé Kardashian, incidentally); Toy Story 3 was Best Animated Feature; HBO's The Pacific was Best Picture Made for Television; and Sweden's The Girl With the Dragon Tattoo was named Best Foreign Language Film.
Your move, American version.
Tim Roth
,
Ice Cube
,
Adam Levine
and
Keri Hilson
teamed up to pay tribute to
Quentin Tarantino
with the first-ever Music + Film Award, for his singular use of soundtrack in shaping scenes and storylines. Levine, for instance, performed "Stuck in the Middle" as the iconic
Reservoir Dogs
torture scene played in the background, and Hilson sang "Son of a Preacher Man," wearing sleek black and white in homage to
Uma Thurman
in
Pulp Fiction
.
Fabulously,
Emily Blunt
joined forces (or opposed forces, really) with
Jimmy Kimmel
to present
Matt Damon
with the fourth annual Joel Siegel Award for Service to the Community for cofounding Water.org, which provides safe drinking water to children in impoverished areas.
"Isn't he great everybody? Matt Damon, the greatest guy in the world," Kimmel said, outraged. "You know,
Sean Penn
is actually in Haiti right now, carrying things…[Damon's] sitting there with makeup on. Have another Evian, Water.org!"
"You stop it!" he told Blunt. "I'm sick of him getting awards! Do you know how much water he wasted during that shower scene in School Ties?"
"Jimmy, I have no idea why you're here," Damon said. And so Kimmel turned on his heel and was on his way.
Here's the complete list of winners from the 16th Annual Critics Choice Movie Awards:
Best Picture: The Social Network
Best Actor: Colin Firth, The King's Speech
Best Actress: Natalie Portman, Black Swan
Best Supporting Actor: Christian Bale, The Fighter
Best Supporting Actress: Melissa Leo, The Fighter
Best Young Actor/Actress: Hailee Steinfeld, True Grit
Best Acting Ensemble: The Fighter
Best Director: David Fincher, The Social Network
Best Original Screenplay: David Seidler, The King's Speech
Best Adapted Screenplay: Aaron Sorkin, The Social Network
Best Cinematography: Inception
Best Art Direction: Inception
Best Editing: Inception
Best Costume Design: Alice in Wonderland
Best Makeup: Alice in Wonderland
Best Visual Effects: Inception
Best Sound: Inception
Best Animated Feature: Toy Story 3
Best Action Movie: Inception
Best Comedy: Easy A
Best Picture Made for Television: The Pacific
Best Foreign Language Film: The Girl With the Dragon Tattoo
Best Documentary Feature: Waiting for Superman
Best Song: "If I Rise," music by A.R. Rahman, lyrics by Rollo and Dido Armstrong, 127 Hours
Best Score: The Social Network